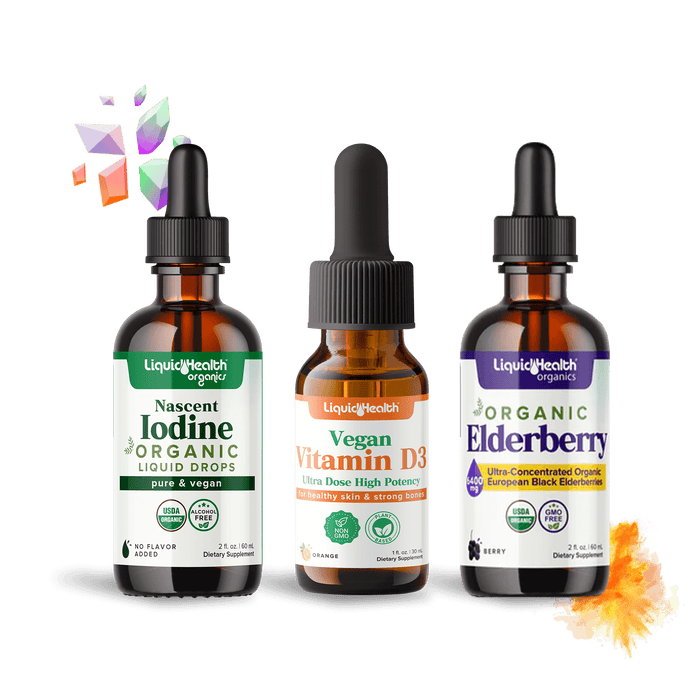 Elite Immunity Support Droppers Bundle
Save

39

%
Save

39

%
Original price
$63.85
-
Original price
$63.85
If you want to boost your immune system and keep your body healthy and strong, look no further than the Elite Immunity Support Droppers Bundle. This powerful bundle combines three of our most effective supplements: Organic Iodine Drops, Vegan Vitamin D3 Drops, and Organic Elderberry Drops. Together, these drops provide a comprehensive and practical approach to immune system support.
At the heart of this bundle is our Organic Iodine Drops. Iodine is an essential mineral that is crucial to thyroid function, metabolism, and immune system health. Our Organic Iodine Drops are made from pure, vegan-friendly iodine sourced from organic seaweed. The body readily absorbs this high-quality iodine and provides powerful support for the immune system and overall health and wellness.
In addition to our Organic Iodine Drops, the Elite Immunity Support Droppers Bundle includes our Vegan Vitamin D3 Drops. Vitamin D3 is another essential nutrient that plays a vital role in immune system function, bone health, and mood regulation. However, many people struggle to get enough vitamin D3 through their diet and exposure to sunlight. Our Vegan Vitamin D3 Drops provide a convenient and effective way to supplement your body's vitamin D3 levels with a vegan-friendly and easy-to-absorb formula.
Finally, the bundle includes our Organic Elderberry Drops. Elderberry has long been recognized for its immune-boosting properties, and our Organic Elderberry Drops provide a potent and convenient way to incorporate this powerful superfood into your daily routine. Made from certified organic elderberries, our drops are carefully crafted to retain the maximum nutritional benefits of this superfood.
Together, these three supplements work harmoniously to provide comprehensive and effective support for your immune system. The Elite Immunity Support Droppers Bundle is ideal for anyone looking to stay healthy and robust in the face of illness and disease. Whether you're an athlete, a busy professional, or just someone who wants to take control of your health and wellness, this bundle is a powerful tool to have in your arsenal.
At Liquid Health, we are committed to providing our customers with the highest quality supplements. Our Elite Immunity Support Droppers Bundle is no exception, and we stand behind our products with a 100% satisfaction guarantee. With Liquid Health, you can trust that you're getting the best of the best when it comes to your health and wellness needs.
Organic Nascent Iodine Drops
Energy, Clarity, Metabolism & Balance: Give your body what it needs. The body doesn't produce iodine, so taking an iodine supplement is essential for many that don't get enough in their diet. Iodine deficiencies can lead to exhaustion, weight gain, dry skin, and even more issues that can be prevented. With just a couple of flavorless drops each day, you'll keep your iodine levels in check.
Organic Elderberry Drops
Introducing Liquid Health Organic Elderberry Liquid Drops! Packed with 6,400 mg of ultra-concentrated organic elderberries, these powerful liquid drops are the perfect way to get your daily dose of Sambucus Elderberry for men, women, and children. Each serving is equivalent to eating 60 elderberries – that's 30 servings per bottle!
Vegan Vitamin D3 Drops
Liquid Health™ Vegan Vitamin D3 Supplement Drops make daily supplementation simple.
• Vegan-friendly Vegan Vitamin D-3 (Cholecalciferol), now sourced from Lichen, which is a plant-based source
• Each milliliter contains 5000 IU of Vitamin D3 suspended in pure aloe vera juice.
• Liquid Health™ Vegan Vitamin D3 drops can easily be added to liquids and are ideal for children and those with difficulty swallowing pills.