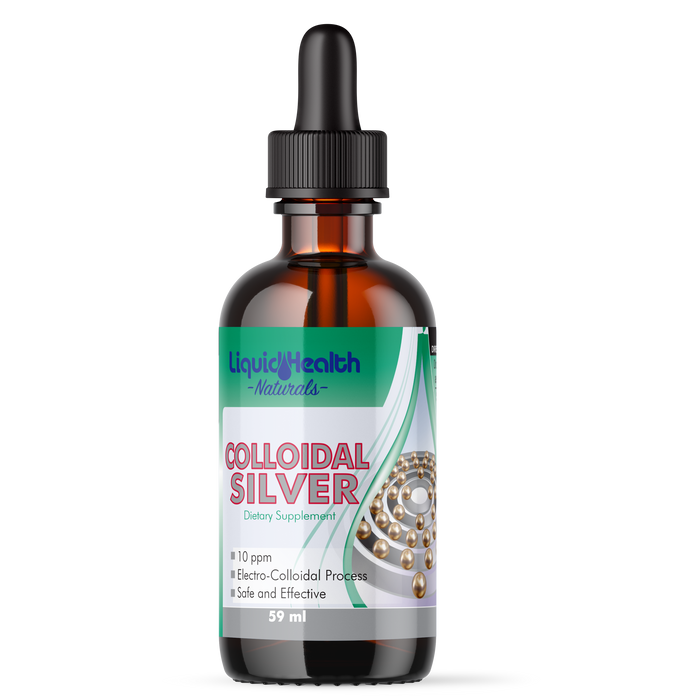 Colloidal Silver
Save

33

%
Save

10

%
Original price
$19.95
-
Original price
$59.85
Our Colloidal Silver is a premium quality supplement designed to support your immune system and promote overall health and wellness. This powerful liquid formula contains pure colloidal silver, a natural substance used for centuries to support health and wellness.
Colloidal silver is a suspension of tiny silver particles in a liquid base. It is known for its antimicrobial properties, which make it an effective tool for supporting a healthy immune system. Silver has been used for centuries for its healing properties and is a popular natural remedy for various health conditions.
There are several Colloidal Silver benefits to health. One of the key advantages of Liquid Health Colloidal Silver is its purity. This liquid colloidal silver supplement is made with only the highest quality ingredients and is free from common allergens like gluten, soy, and dairy. It is also free from artificial colors, flavors, and sweeteners, ensuring you get only the purest, most effective product.
Another benefit of Colloidal Silver is its liquid form. Liquid Colloidal Silver supplement is easier to absorb and utilize than pills or capsules, ensuring that your body can quickly and effectively use the colloidal silver. Additionally, the liquid form makes it easier to adjust the dosage to suit your needs, allowing you to fine-tune your intake based on your unique requirements.
Our liquid Colloidal Silver supplement is also easy to use. Shake the bottle well, then take the recommended dose using the dropper. The liquid form makes it easy to incorporate into your daily routine, whether you take it alone or mix it with your favorite beverage.
One of the key advantages of Liquid Health Colloidal Silver is its versatility. This liquid colloidal silver supplement can be used in various ways to support your overall health and well-being. It can be used topically to support healthy skin or taken internally to support a healthy immune system. Additionally, it can be used to support oral health, as it is a natural antimicrobial that can help combat harmful bacteria in the mouth.
It's worth noting that our brand is committed to quality and transparency. All our products are made in the USA in a GMP-certified facility, ensuring they are of the highest quality and purity. Additionally, we provide detailed information about their ingredients and formulations, allowing you to decide which supplements are right for you.
If you're looking for a high-quality liquid colloidal silver supplement that is pure, effective, and easy to use, our Colloidal Silver is an excellent choice. With its potent dose of colloidal silver, pure and high-quality ingredients, and convenient liquid form, this supplement is an excellent way to support your overall health and well-being.
What's Inside

Overview & Benefits

What is true colloidal silver used for, how to use it and does it work? There are many advanced colloidal silver uses and benefits. Colloidal silver products may include uses as a colloidal silver dietary supplement. Recommended supplement dosage is 1-2 ml twice daily or as directed by a physician.

#immunity

#longevity

#energy

Ingredients & Analysis

Liquid Health has been making liquid colloidal silver supplement solutions with minerals for years so we know how to make it safe and effective. Colloidal silver water liquid is much more effective than as a colloidal silver nasal or throat spray, cream or gel, since it can enter the blood stream more quickly and efficiently.

Supplement Facts

Servings Per Container:

~59

Amount Per Serving %Daily Value† Silver 10ppm ** Colloidal Silver 10 ppm in a base of water.
How to use

Use & Storage

Shake Well

Some settling is normal, so shake well! And remember — this is a natural product, so color and taste may slightly vary from bottle to bottle.

1-2 ml twice daily

For best absorption, take 1-2 ml twice daily.

Refrigerate

Keep your bottle cool by refrigerating after opening. Our bottles are designed to protect your liquid from light & moisture.