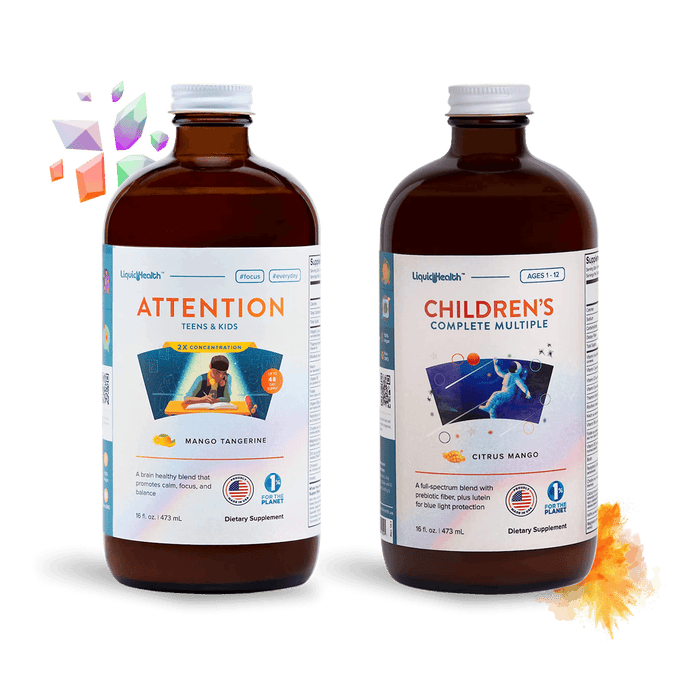 Children's Attention + Focus Vitamin Bundle
Save

19

%
Save

19

%
Original price
$67.90
-
Original price
$67.90
The Children's Attention + Focus Bundle by Liquid Health is the ultimate solution to help your child stay focused and attentive throughout the day. This bundle addresses the needs of children struggling with attention deficit and hyperactivity disorders. It contains a carefully curated selection of supplements that work together to improve children's focus, cognitive function, and behavior.
One of the key components of this bundle is the Attention & Focus supplement. This powerful brain focus supplement contains vitamins, minerals, and herbal extracts that help to focus and improve cognitive function. Unlike other natural supplements for ADHD, Attention is formulated with ingredients like GABA, DMAE, and Bacopa, which have been shown to promote mental clarity and reduce stress and anxiety in children. The supplement also includes essential vitamins and minerals, providing energy for sharper focus and improved concentration. With Vitamin B12, zinc, green tea extract, and more, this supplement gives you the cognitive boost you need for better productivity and success.
Another essential supplement included in this bundle is the Children's Multiple. Especially 
formulated for kids' multivitamin needs, our liquid multivitamin supplement for kids provides all the necessary vitamins and minerals that growing children need to support overall health and wellness. It includes a comprehensive blend of vitamins, minerals, and antioxidants that help immune function, bone health, and eye health. Unlike other children's vitamins, which can be difficult to swallow or have a strong taste, this liquid formula is easy to drink and has a great taste that kids love. 
Combining the Attention & Focus supplement with their Children's Multiple Supplement, you can rest assured that your little one will receive the extra support they need for improved cognitive performance and overall health. The potent mixture of vitamins, minerals, amino acids, and herbs helps to provide essential nutrients that aid in enhanced focus and concentration while giving energy-boosting benefits.
The Children's Attention & Focus Bundle is a comprehensive solution for parents who want to support their child's cognitive function, focus, and behavior. The supplements in this bundle are made with high-quality, natural ingredients and are free from artificial colors, flavors, sweeteners, and gluten and dairy free. The liquid form of these supplements also makes them easy for children to take and absorb, ensuring they receive the full benefits of each formula. With the Children's Attention & Focus Bundle, parents can feel confident that they are providing their children with the support they need to succeed.
Children's Complete Multiple
Your Kid Deserves The Best & Nothing's Better Than Liquid Vitamins.
Vitamins in Liquid form like this Children's Complete Multiple Multivitamin for kids give your little one the highest absorption and potency compared to any other supplement, including chewables and gummies. This liquid vitamin digests in minutes, not hours, and is cold-processed to keep every nutrient molecule intact. Alternative vitamins like tablets, chewable, and gummy vitamins absorb at a rate of only 10-20% compared to our liquid vitamins for kids, which have a 96% absorption rate.
Give Your Kid The Nourishment They Need With One Single Delicious Supplement.
This highly absorbable Children's Vitamin ranks first for its full-spectrum vitamin and mineral support for kiddos. When we say it's packed full of nutrition, we mean it. This delicious, naturally-sweetened kids' liquid multivitamin contains 12 essential vitamins, 68 vital minerals, 24 fruit, 3 superfruit, and 6 vegetable extracts, plus 17 amino acids that are the building blocks of protein. What's better is that your child's body will absorb these nutrients and get the value of these incredible ingredients. These ingredients are so natural that each amber glass bottle needs to be refrigerated after opening.
Attention 
Gives Kids The Focus & Nourishment They Need In One Single Delicious Supplement.
This highly absorbable multivitamin kids liquid Attention is jam-packed with a full spectrum of vitamins and minerals for growing kiddos and a few one-of-a-kind nutrient blends to boost their focus, concentration, and calm behavior. This delicious, naturally-sweetened Mango Tangerine liquid contains enhanced-focus kids vitamins like calcium for kids and magnesium supplements for kids derived from Aquamin Seawater extract and completely natural sources.