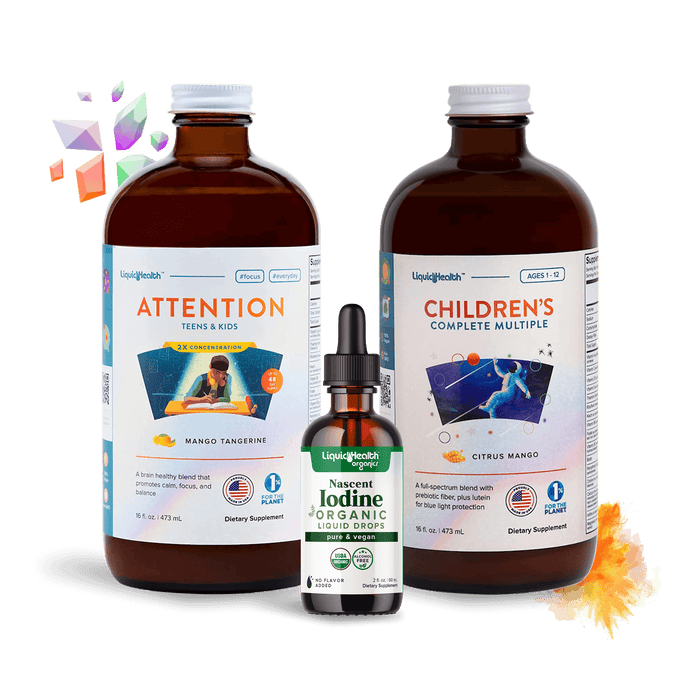 Child Prodigy Health + Focus Vitamin Bundle
Save

25

%
Save

25

%
Original price
$92.85
-
Original price
$92.85
As parents, we always want our children to have the best when it comes to their health and development. That's why Liquid Health has created the Child Prodigy Health + Focus Vitamin Bundle, a powerful combination of three of our best-selling supplements: Organic Iodine Drops, Attention for Teens and Kids, and Children's Complete Multiple.
The first supplement in this bundle is Organic Iodine Drops, made with natural, plant-based ingredients that provide essential nutrition for healthy thyroid function, metabolism, growth, and development. Iodine is also necessary for healthy brain function and cognitive development, and unfortunately, many children do not get enough iodine in their diet, which can lead to developmental delays and learning disabilities. That's why Liquid Health's Organic Iodine Drops are an essential supplement for your child's health and well-being.
The second supplement in the bundle is Attention for Teens and Kids, a unique formula specifically designed to support healthy brain development and focus. This supplement is made with a blend of vitamins, minerals, and herbs that have been shown to improve cognitive function and naturally reduce symptoms of ADHD. Some key ingredients in Children's Complete Attention include vitamin B6, magnesium, zinc, and DMAE, all of which have been shown to improve focus, memory, and learning.
The third and final supplement in the bundle is the Children's Complete Multiple, which provides essential vitamins and minerals that kids need for healthy growth and development. It also contains natural, plant-based ingredients like organic fruits and vegetables that provide nutrient-dense nutrition. Plus, Liquid Health's Children's Complete Multiple is liquid for maximum absorption and is free of gluten, wheat, dairy, soy, nuts, and other common allergens.
Give your child the best start in life with Liquid Health's Child Prodigy Health + Focus Vitamin Bundle! This bundle provides your child with essential nutrients vital for healthy development and focus. The Organic Iodine Drops help support brain development, while the Attention helps improve focus and cognitive function. The Children's Complete Multiple provides additional vitamins and minerals to promote growth and development. With this bundle, you can be sure your child is getting everything they need to stay healthy, focused, and ready to take on the world!
Get your Child Prodigy Health + Focus Vitamin Bundle today from Liquid Health for a comprehensive approach to achieving optimal health in your child!
 Organic Nascent Iodine Drops
Energy, Clarity, Metabolism & Balance: Give your body what it needs. The body doesn't produce iodine, so taking an iodine supplement is essential for many that don't get enough in their diet. Iodine deficiencies can lead to exhaustion, weight gain, dry skin, and even more issues that can be prevented. With just a couple of flavorless drops each day, you'll keep your iodine levels in check.
Children's Complete Multiple
 This highly absorbable Children's Vitamin ranks first for its full-spectrum vitamin and mineral support for kiddos. When we say it's packed full of nutrition, we mean it. This delicious, naturally-sweetened kids' liquid multivitamin contains 12 essential vitamins, 68 vital minerals, 24 fruit, 3 superfruit, and 6 vegetable extracts, plus 17 amino acids that are the building blocks of protein. What's better is that your child's body will absorb these nutrients and get the value of these incredible ingredients. These ingredients are so natural that each amber glass bottle needs to be refrigerated after opening.
Attention
This highly absorbable multivitamin is jam-packed with a full spectrum of vitamins and minerals for growing kiddos and a few one-of-a-kind nutrient blends to boost their focus, concentration, and calm behavior. This delicious, naturally-sweetened Mango Tangerine liquid contains enhanced-focus kids' vitamins like calcium for kids and magnesium supplements for kids derived from Aquamin Seawater extract and completely natural sources. When it comes to kids' concentration vitamins and focus kids vitamins, they