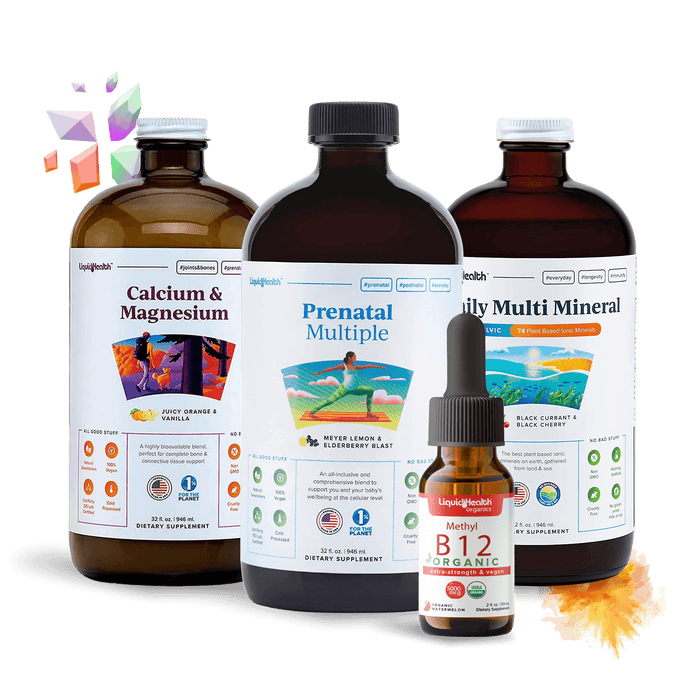 Women's Health + Vitality Vitamin Bundle
Save

21

%
Save

21

%
Original price
$144.80
-
Original price
$144.80
The Women's Health and Vitality Bundle by Liquid Health is a comprehensive package of the best liquid vitamins and supplements specifically designed to support the health and well-being of women. This bundle includes Liquid Health's Prenatal Multiple, Calcium and Magnesium, Daily Mineral, and Organic Vitamin B-12 supplements. Each of these supplements is packed with essential vitamins, minerals, and nutrients that help support women's multivitamin needs at every stage of life.
Prenatal Multiple is a liquid prenatal supplement that contains the best pregnancy vitamins to support the nutritional needs of women during pregnancy. This supplement contains essential liquid prenatal vitamins and minerals, including folate, iron, and calcium, necessary for healthy fetal development. Prenatal Multiple also contains ginger extract to help support digestive comfort during pregnancy.
Liquid Health Calcium Magnesium is one of the most potent supplements for bones and joints, designed to support women's bone health and overall well-being. Its easy-to-absorb formula delivers a powerful blend of calcium, magnesium, and vitamins for joints and muscles, promoting strong bones, reducing muscle tension, and improving cardiovascular health. This product contains vital ingredients such as vitamin D3, B vitamins, iron, and folate, making it one of the best supplements for joint pain.
The Daily Multi Mineral is a liquid mineral supplement specially formulated for women's unique nutritional needs. With a powerful blend of essential minerals, including calcium, magnesium, and zinc, this supplement supports healthy bones, aids immune system function, and promotes balanced energy levels. 
Liquid Health's Organic Vitamin B12 Drops are the perfect supplement for women seeking to improve their energy levels and overall well-being. Each drop delivers the best liquid vitamins with a highly absorbable liquid formula, promoting healthy red blood cell formation, boosting energy, and supporting cognitive function.
Overall, the Women's Health Vitality Bundle by Liquid Health is an excellent choice for women's multivitamin needs. With its comprehensive blend of essential vitamins, minerals, and nutrients, this women's multivitamin and minerals bundle provides the nutritional support women need to stay healthy and vibrant at every stage of life. Whether you're looking to boost your immune system, support healthy digestion, or promote healthy fetal development, the Women's Health Vitality Bundle has everything you need to thrive.
Prenatal Multiple
A COMPLETE MULTIVITAMIN WITH A FULL SPECTRUM OF THE BEST PRENATAL VITAMINS - If you're looking for pregnancy vitamins for women with folic acid, this one's better! Also used as postpartum and postnatal vitamins for breastfeeding moms, this liquid Prenatal Vitamin called Prenatal Multiple contains natural prenatal folate (not folic acid) and a vegan prenatal vitamin with iron. This much-needed prenatal liquid contains Vitamin A, B1, B2, B3, B6, B12, Biotin, Magnesium, Zinc & more.  
Calcium & Magnesium
High bioavailable calcium/magnesium with four kinds of bio-reactive chelated minerals. With Vitamin D3, Boron, Silica, lysine, and trace minerals for complete bone and connective tissue support. 
Daily Multi-Mineral
FULVIC ACID + ESSENTIAL SEA TRACE MINERALS EVERY BODY NEEDS - This bioavailable multi minerals supplement contains essential Aquamin trace minerals that are no longer found in our depleted soil due to overfarming and pollution, as well as prehistoric fulvic minerals from deep beneath the ocean surface. These fulvic minerals liquid supplement detoxes and replenishes electrolytes so you can absorb minerals better, increase energy, regulate blood pressure, protect against free radicals, and more.  
Organic Vitamin B12, 5000 MCG
ORGANIC ENERGY & METABOLISM SUPPORT! The most significant innovation in vitamins in over a decade, Methylcobalamin: Vitamin B-12 (cobalamin) is a water-soluble B vitamin that is essential for energy, metabolism, formation of healthy blood cells, and DNA synthesis.