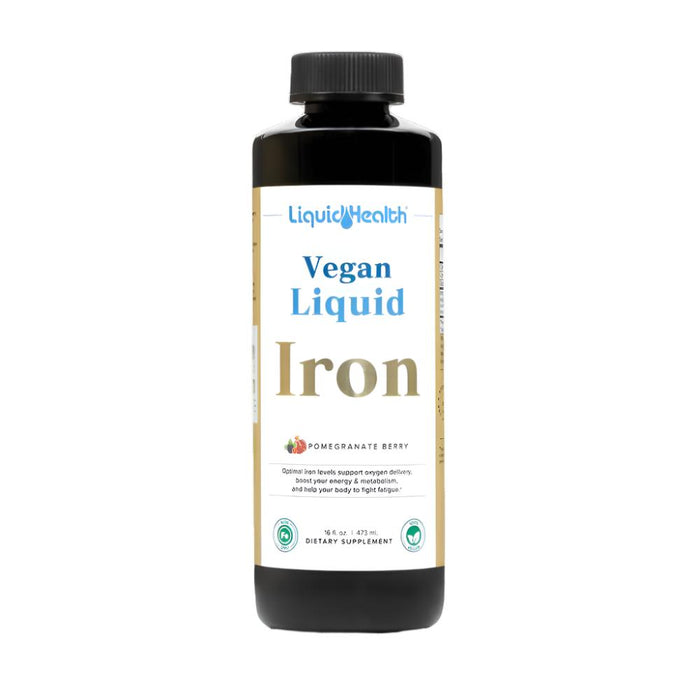 NEW! Vegan Liquid High Potency Iron Supplement ***PRE-ORDER NOW***
16 fl oz

Pomegranate Berry
Save

17

%
Save

8

%
Original price
$39.95
-
Original price
$119.85
Delivery time
This product is expected to ship by EARLY-MID DECEMBER 2023. Pre-Order Now! (First Come, First Serve)
Introducing Liquid Health's Vegan Liquid Iron – the ultimate solution for those seeking a powerful and effective vegan iron supplement! Our unique formula is specifically designed to boost your energy levels, support your immune system, and improve cognitive function. Made with the highest quality ingredients, this vegan liquid iron supplement is just what you need to thrive and feel your best every day.
Are you tired of feeling tired and sluggish throughout the day? Look no further! Our Liquid Iron Supplement plays a vital role in transforming carbohydrates and fats into energy, ensuring your body gets the necessary iron levels to help you stay energized all day long. Say goodbye to those midday crashes and hello to a more active and productive lifestyle with our liquid iron vegan formula.
Don't let a weak immune system hold you back! Our Liquid Iron Supplement is here to support your body's defense system by maintaining the proper functioning of your immune system. Unlock your brain's full potential with our vegan liquid iron supplement. Iron is essential for proper brain function and development, and our formula is designed to support and enhance cognitive function. Boost your mental performance and overall cognitive health.
Don't miss out on this game-changing product – try our Vegan Liquid Iron Supplement today and experience the amazing benefits for yourself!
Liquid Health's Vegan Liquid Iron Supplement Key Features & Benefits:
All Day Energy
Enhanced Metabolism Support
Healthy Blood Production
Maintain Optimal Iron Levels
Transports Oxygen through red blood cells to muscles
Supports healthy red blood cell production
Non-Constipating
Contains Ferrochel and Sunactive iron, the two best forms of iron on the planet
Easy to Digest
Gentle on Stomach
Prenatal Iron
Postnatal Iron
Freqently Asked Questions (FAQs)
What is a Vegan Liquid High Potency Iron Supplement, and why might I need it?
It's a vegan iron supplement in liquid form for those on plant-based diets who may lack iron. Iron is crucial for energy and red blood cell production.
How do I take a Vegan Liquid High Potency Iron Supplement, and are there any side effects?
Take as directed with food. Side effects may include mild digestive discomfort. Consult a healthcare provider for severe issues.
How do I choose the right Vegan Liquid High Potency Iron Supplement for me?
Consider iron content, form, vegan ingredients, taste, price, and brand reputation. Consult a healthcare professional for personalized guidance.
What's Inside

Overview & Benefits

Boost your energy levels and keep your immune system strong with Liquid Health's Vegan Liquid Iron Supplement. This supplement plays a critical role in transforming carbohydrates and fats into energy, ensuring your body gets the necessary iron levels to stay invigorated throughout the day. It also serves as a defense for your immune system..

Beyond just physical energy and immunity, this supplement also supports cognitive function, promoting mental clarity and focus. It's a key component of hemoglobin, facilitating healthy blood production for efficient oxygen transportation. And for those into fitness, it supports muscle health by assisting in the formation of myoglobin, a protein that stores oxygen in muscle cells.

With its liquid formula, the absorption process is quick and efficient, making it an ideal choice for those with digestive issues. The supplement is 100% plant-based, making it suitable for vegans and vegetarians, as well as being safe for the whole family. Incorporate Liquid Health's Vegan Liquid Iron Supplement into your daily routine and experience overall better health.

Supplement Facts

Servings Per Container:

32

Amount Per Serving %Daily Value† Calories 20 Total Carbohydrate 5 g 2% Total Sugars 0 g 0% Iron (from Ferrochel®, ferrous bisglycinate chelate and SunActive® Fe, liposomal ferrous pyrophosphate) 18 mg 100% Other Ingredients Purified Water, Organic glycerin, Xanthan gum, Natural flavor, Citric acid, Organic Stevia leaf extract (Reb A/ Reb M), Potassium sorbate (to preserve freshness), Citrus extract.
How to use

Use & Storage

Shake Well

Some Settling is normal, so shake well! And remember - this is a natural product, so color taste may slightly vary from bottle to bottle.

1/2 oz Daily

For best absorption, take 1/2 oz daily

Refrigerate

Keep your bottle cool by refrigerating after opening. Our bottles are designed to protect your liquid from light.