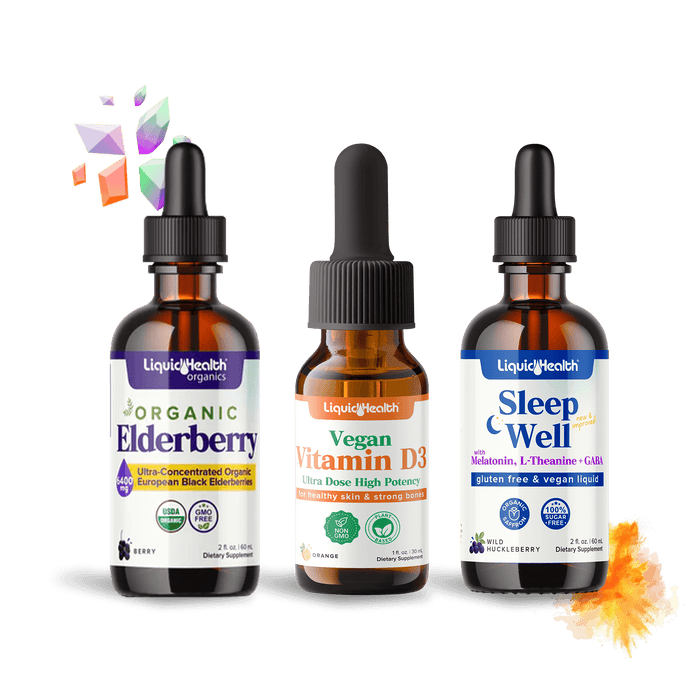 "Under-The-Weather" Vitamin Recovery Bundle
Save

36

%
Save

36

%
Original price
$69.85
-
Original price
$69.85
Get back on your feet faster with Liquid Health's Under The Weather Vitamin Recovery Bundle! This bundle is the perfect choice for anyone who needs to replenish their vitamin stores quickly. It contains three essential products that work together to help support the body's natural ability to fight off cold and flu symptoms, boost immunity, and help lock in your daily essential vitamins and minerals.
Power up your immune system with Liquid Health's Organic Elderberry Drops. This powerful product contains a blend of ultra-concentrated organic Sambucus elderberries. Our liquid elderberry drops are free from artificial flavors, colors, and sweeteners and are also gluten, dairy, and soy free. Unlike other elderberry supplements, our Organic Elderberry Drops help promote faster recovery while strengthening the body to prevent illness before it can take hold.
Next, we have our Vegan Vitamin D3 Drops. An essential vitamin for immune health, liquid Vitamin D3 helps promote faster recovery and boosts the body's natural ability to fight off cold and flu symptoms. Our vegan-friendly, plant-based vitamin d3 drops provide a convenient alternative to traditional supplements, delivering your daily dose safely and efficiently. Our liquid vegan vitamin d3 supplement helps support healthy immunity, strong bones, and overall vitality.
Get a good night's rest with our natural sleep supplement, Sleep Well! This natural sleep aid is expertly crafted to help you feel rested, refreshed, and energized the next day. This natural sleep supplement contains melatonin to help you achieve improved sleep quality and deeper, more restorative slumber. Combined with a blend of herbal extracts and minerals, Sleep Well promotes deeper, more restorative sleep so you can wake up feeling your best. 
If you're looking for a natural way to support your immune system, improve sleep quality, and aid post-workout recovery, look no further than the Under the Weather Vitamin Recovery Bundle from Liquid Health. This bundle contains everything you need to stay healthy, active, and feel your best all year.
FAQs
Sleep Well
Restores Naturally Occurring Levels of Melatonin: Around age 40 many people experience a decline in melatonin production. Melatonin is a hormone produced during daylight that is stored in the pineal gland of the brain. This hormone is released beginning at dusk and peaks around bedtime to help induce a natural, restful sleep. Liquid Health™ Our Sleep Well liquid sleep aid supplement helps restore melatonin levels and returns a person to the well rested energy levels experienced in youth.
 Organic Elderberry Drops
Introducing the NEW Liquid Health Organic Elderberry Liquid Drops! Packed with 6,400 mg of ultra-concentrated organic elderberries, this powerful liquid drops are the perfect way to get your daily dose of Sambucus Elderberry for men, women, and children. Each serving is equivalent to eating 60 elderberries – that's 30 servings per bottle!
Vegan Vitamin D3
Looking for a vegan-friendly and effective way to get your daily vitamin D3? Look no further! Our Vegan Vitamin D3 Liquid Drops are the perfect solution for you! Our ultra-high potency liquid drops are formulated to provide optimal bone strength, immune support, and skin health. With 20mcg of vegan Vitamin D3 per serving, our drops are Non-GMO and designed to maximize absorption to ensure you get the benefits you need.