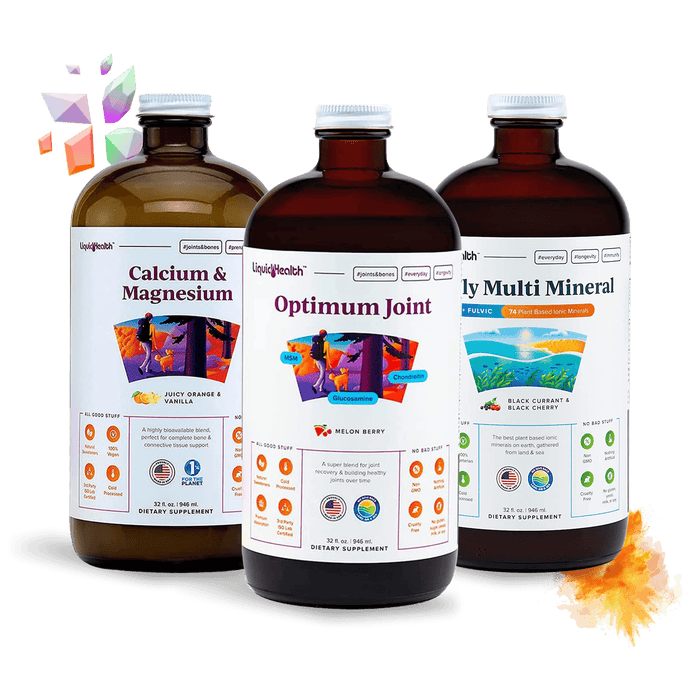 Muscles, Bones, & Joints Vitamin Bundle
Save

26

%
Save

26

%
Original price
$114.85
-
Original price
$114.85
Delivery time
This product is expected to ship by EARLY-MID DECEMBER 2023. Pre-Order Now! (First Come, First Serve)
Liquid Health's Muscles, Bones & Joints Bundle is a comprehensive collection of liquid supplements for bones and joints designed to support joint health, mobility, and overall bone and muscle strength. This bundle is perfect for athletes, active individuals, seniors who want to maintain optimal joint function and mobility, and individuals who suffer from joint pain, arthritis, or other joint-related issues.
The bundle includes three different liquid supplements, each with its own unique benefits.
Optimum Joint - This liquid supplement for joints contains a combination of glucosamine, chondroitin, and MSM (methylsulfonylmethane), which work together to promote joint health and reduce inflammation. Glucosamine is a natural compound found in cartilage and other connective tissues, and it is essential for maintaining joint health and mobility. Chondroitin is a molecule also found in cartilage, and it helps cushion and lubricate the joints. MSM is a natural anti-inflammatory compound that can help to reduce joint pain and swelling - a crucial component of supplements for joint pain.
Liquid Calcium Magnesium - calcium and magnesium supplements contain essential minerals for strong bones and muscles. Liquid Calcium Magnesium is formulated to deliver these nutrients in a highly bioavailable liquid form. It also contains vitamin D3, which is vital for calcium absorption, as well as zinc and boron, which are essential components of joint pain supplements. Liquid Calcium Magnesium also contains one of the critical vitamins for joints and muscles - Vitamin D, an essential nutrient necessary for bone health, immune function, and overall health and wellbeing. 
Daily Multi-Mineral - contains essential Aquamin trace minerals and fulvic acid, designed to promote overall health and wellness by delivering vital minerals to your body. Our supplement contains highly concentrated and purified fulvic minerals from ancient plant matter. Fulvic minerals improve the body's nutrient absorption, improving overall health. They also play an essential role in supporting a healthy immune system, promoting healthy digestion, and aiding in detoxification.
These three products provide a comprehensive bundle of supplements for bones and joints. They work synergistically to support healthy joints, reduce inflammation, and promote strong bones and muscles.
Thanks to its liquid form, the Muscles, Bones & Joints Bundle is easy to take and absorb. Unlike other supplements for joints and bones that come in pills or capsules, liquid supplements are quickly absorbed into the bloodstream, providing faster and more effective results. Additionally, liquid supplements are easy to swallow and do not require any special preparation or equipment.
This bundle of supplements for joints and bones suits individuals of all ages and lifestyles. Athletes and active individuals can benefit from the joint-supporting properties of Glucosamine-V, while seniors can benefit from the bone-strengthening properties of Liquid Calcium Magnesium and Vitamin D3 Drops. Additionally, individuals who suffer from joint pain or arthritis may find relief from their symptoms by incorporating these supplements into their daily routines.
Overall, the Muscles, Bones & Joints Bundle is a powerful combination of supplements for bones and joints that work together to support optimal joint and bone health. Whether you are an athlete, a senior, or simply looking to maintain strong bones and joints, this bundle is a convenient and effective way to achieve your health and wellness goals.
Calcium & Magnesium
High bioavailable calcium/magnesium with four kinds of bio-reactive chelated minerals. With Vitamin D3, Boron, Silica, lysine, and trace minerals for complete bone and connective tissue support. 
Optimum Joint
THE HIGHEST QUALITY JOINT SUPPORT INGREDIENTS AVAILABLE - This unique Optimum Joint for knee support and joint relief contains 62% more Glucosamine, 50% more Chondroitin, plus MSM, Hyaluronic Acid, and pure aloe vera to lubricate joints effectively. These premium joint health liquid multivitamins are a must-have joint supplement to help you move free and get the complete knee support you deserve to achieve optimum joint health.
Daily Multi-Mineral
FULVIC ACID + ESSENTIAL SEA TRACE MINERALS EVERY BODY NEEDS - This bioavailable multi minerals supplement contains essential Aquamin trace minerals that are no longer found in our depleted soil due to overfarming and pollution, as well as prehistoric fulvic minerals from deep beneath the ocean surface. These fulvic minerals liquid supplement detoxes and replenishes electrolytes so you can absorb minerals better, increase energy, regulate blood pressure, protect against free radicals, and more.