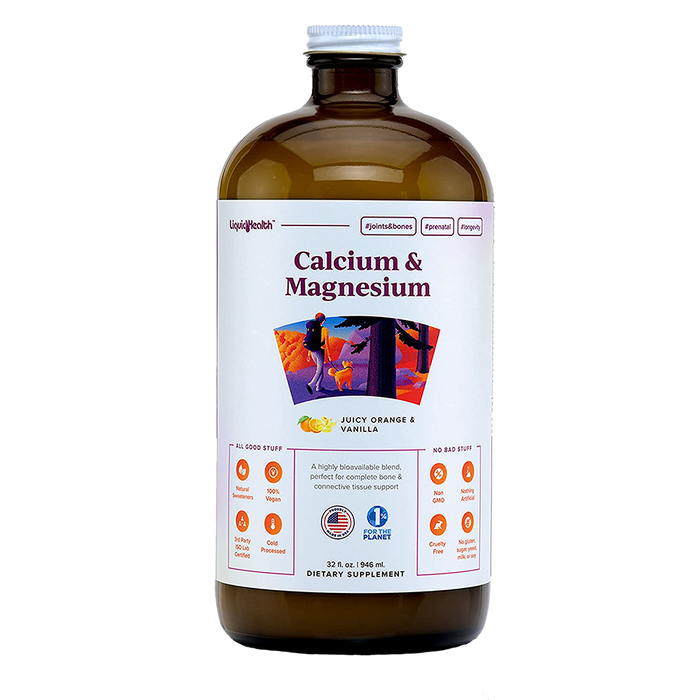 Calcium & Magnesium
32 oz.

Juicy Orange & Vanilla
Save

29

%
Save

13

%
Original price
$39.95
-
Original price
$119.85
Introducing the Calcium Magnesium Liquid Supplement by Liquid Health – the best calcium and magnesium supplement that helps to support healthy bones and teeth. This liquid calcium and magnesium supplement contains a powerful blend of calcium and magnesium together and other key nutrients that work together to provide optimal bone health support.
Our liquid calcium magnesium supplement is unlike any other. Uniquely formulated with organic forms of calcium and magnesium, such as liquid calcium and magnesium citrate. Magnesium citrate vitamin and liquid calcium citrate reduce inflammation for improved joint health, balanced hormones, increased immunity, and enhanced cardiovascular health. 
This liquid calcium magnesium supplement is perfect for anyone looking to support their bone health, whether you're an athlete, have an active lifestyle, or are concerned about osteoporosis or other bone-related conditions. Our calcium magnesium supplement is designed to help promote strong, healthy bones, improve bone density, and reduce the risk of fractures and other bone-related injuries.
Discover a unique blend of ingredients, including calcium, magnesium, vitamin D3, manganese, and boron, with natural silica blend. These ingredients work together to support healthy bone function, reduce the risk of bone-related conditions, and improve overall bone health.
Calcium and magnesium are two of the key ingredients in this supplement, and they are both essential components of healthy bones and teeth. Calcium is vital for the growth and maintenance of bones, while magnesium helps to regulate calcium levels in the body and promote healthy bone density.
Vitamin D3 is also included in this supplement, an essential nutrient that helps improve calcium absorption and promote bone health. Boron is a trace mineral that plays a role in the metabolism of calcium and magnesium and helps to support healthy bone density.
One of the standout features of this supplement is its liquid form. Unlike traditional calcium and magnesium supplements that come in pills or capsules, this liquid supplement is easy to digest and absorbs quickly into your bloodstream. This means that your body can quickly and easily benefit from the essential nutrients in this supplement.
Free from artificial colors, flavors, and preservatives, our liquid calcium magnesium supplement is a safe and healthy choice for anyone looking for a natural supplement. Our supplement is vegan, gluten-free, and non-GMO, ensuring it is safe for individuals with dietary restrictions.
Enjoy its delicious natural orange and vanilla flavor, and easily incorporate it into your daily routine. Take a tablespoon of the supplement once or twice a day to reap the benefits of its essential nutrients.
What's Inside

Overview & Benefits

Calcium is one of the hardest minerals for the body to absorb and yet is crucial for bone and teeth formation and maintenance, as well as cellular communication. Non-Organic forms of calcium (i.e., calcium carbonate, calcium phpsphate, etc) are notoriously hard for the body to utilize and absorb. Not surprisingly, the most soluble forms of calcium are also the easiest for the body to absorb.

#joints&bones

#prenatal

#longevity

Ingredients & Analysis

Another hurdle for calcium and macromineral absorption is proper pH. Liquid Health Calcium & Magnesium is pre-acidified and free of binders and fillers commonly used in other supplemental forms of calcium that can delay or bypass absorption in the small intestine.

Eliminating the acidification process in your stomach is crucial to keeping calcium absorbed in your bloodstream rather than clogging up a sewer in the form of a pill or tablet.

Scientifically Formulated in the ideal elemental molar ratio of 2:1 Cal/Mag.

Supplement Facts

Serving Size:

2 tbsp (2 tablespoons = 1fl. oz.)

Servings Per Container:

32

Amount Per Serving %Daily Value† Calories 5 Total Carbohydrates 1g Vitamin D3 (as cholecalciferol)(from Lichen)(Vegan) 30 mcg (1200iu) 150% Calcium(as Calcium lactate gluconate, Calcium citrate, [Algae corallioides] [whole plant]) 500 mg 38% Magnesium (as Magnesium citrate, Magnesium gluconate, [Algae Corallioides] [whole plant]) 250 mg 60% Manganese (as manganese bisglycinate chelate) (TRAACS®) 2 mg 87% Boron (as Albion® Bororganic™ boron glycinate chelate) 2 mg ** Natural Silica Blend 1g ** (Providing 100 mg of natural silica) Aloe vera juice, Bamboo extract (Bambusa vulgaris) (stem), L-Lysine, Horsetail extract (Equisetum arvense) Sea Vegetation Derived Ionic trace minerals 3 mg ** Other Ingredients Water (Reverse Osmosis), Citric Acid, Natural Flavor, Potassium Benzoate (to preserve freshness), Potassium Sorbate (to preserve freshness), Xanthan Gum, Stevia P.E. 90%
How to use

Use & Storage

Shake Well

Some settling is normal, so shake well! And remember — this is a natural product, so color and taste may slightly vary form bottle to bottle.

1 fl oz. daily

For best absorption, take ½ oz twice daily. Do not take at the same time as iron supplements, as calcium and iron compete for absorption.

Refrigerate

Keep your bottle cool by refrigerating after opening. Our bottles are designed to protect your liquid from light & moisture.