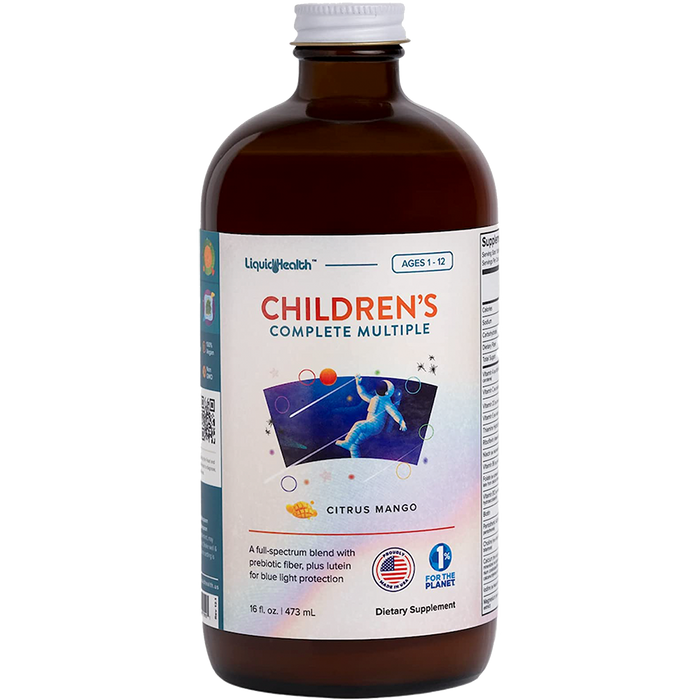 Children's Complete Multiple
16 oz.

Citrus Mango
Save

26

%
Save

6

%
Original price
$34.95
-
Original price
$104.85
Liquid Health Children's Complete Multiple is a premium-quality liquid kids vitamins supplement designed specifically for children. This comprehensive formula delivers essential kids' multivitamin needs, minerals, and other nutrients to support optimal growth and development in children.
One of the highlights of this supplement is its delicious berry flavor, which makes it easy for children to take and enjoy. Unlike other children's vitamins, which can be difficult to swallow or have a strong taste, this liquid formula is easy to drink and has a great taste that kids love.
Regarding nutritional content, Liquid Health Children's Complete Multiple contains a comprehensive blend of essential and best vitamins for kids, including Vitamins A, C, D, E, B1, B2, B6, B12, and more. These nutrients are essential for healthy growth and development in children and can help support immune function, bone health, and cognitive development.
In addition to these essential vitamins and minerals found in the best kid's vitamins, this liquid vitamin also contains other vital nutrients, such as Omega-3 Fatty Acids and DHA, which are essential for healthy brain development in children. These nutrients are crucial during early childhood, as the brain is still developing and growing.
Another essential feature of this supplement is that it is free from artificial colors, flavors, sweeteners, gluten, and dairy. This makes it a safe and healthy option for children with dietary restrictions or sensitivities, making it the best multivitamin for kids.
Liquid Health Children's Complete Multiple is also easy to absorb and digest, thanks to its liquid form. Your child's body can quickly and efficiently absorb nutrients for optimal growth and development.
One of the main benefits of Liquid Health Children's Complete Multiple is that it provides comprehensive nutritional support for children, which can be challenging to achieve through diet alone. While a healthy and balanced diet is essential for children, it can be tough to ensure that they get all the vital vitamins for kids needed for optimal growth and development.
By supplementing with Liquid Health Children's Complete Multiple, you can help ensure your child gets the best kid's vitamins to support their overall health and well-being. This supplement covers you whether you want to support immune function, cognitive development, or bone health.
Overall, if you're looking for a high-quality supplement to support the growth and development of your child, Liquid Health Children's Complete Multiple is an excellent choice. With its comprehensive blend of essential children's vitamins, minerals, and other vital nutrients, this supplement can help ensure your child gets the nutrients they need to support optimal growth and development.
And with its delicious berry flavor and liquid formula, this supplement is easy for children to take and enjoy. So why not give your child the gift of optimal health and development with Liquid Health Children's Complete Multiple?
What's Inside

Overview & Benefits

What's in our children's liquid multivitamin?

No crystalline fructose!– Great tasting children's liquid multivitamin with a tropical orange flavor sweetened with Xylitol.

Double the vitamin D!– The American Academy of Pediatrics recently doubled its recommendation of Vitamin D intake. Vitamin D is essential for bone production and support in young children.

NutraFlora®– scFOS prebiotic fiber combined with soluble fiber and plant-based digestive enzymes promote calcium absorption and gently strengthen the immune and digestive system.

Fruits + Greens– a blend of fruit and veggies that will assure even the most health-conscious mom that her little ones are actually getting what they may be missing in their diet.

Aquamin® mineralized red algae– a natural source of purified calcium, magnesium, and 63 other trace minerals.

#everyday

#immunity

#energy

Ingredients & Analysis

Full-spectrum vitamin-mineral support with added lutein for blue-light protection, prebiotic fiber, fruits & greens blend, and MTHFR friendly folate. Naturally sugar free.

Supplement Facts

Serving Size: 1 tablespoon (0.5 fl. oz.)

Servings Per Container: 32

Amount Per Serving %Daily Value† Calories 10 * Sodium <10 mg * Carbohydrates 3 g 1% Dietary Fiber 2 g 5% Total Sugars 0 g * Vitamin A (as 100% natural beta carotene) 900 mcg RAE 100% Vitamin C (as calcium ascorbate) 90 mg 100% Vitamin D3 (as cholecalciferol from lichen) 20 mcg 100% Vitamin E (as d-alpha tocopherol acetate) 15 mg 100% Thiamine Hydrochloride (Vitamin B-1) 1.2 mg 100% Riboflavin (Vitamin B-2) 1.3 mg 100% Niacin (as niacinamide) (Vitamin B-3) 16 mg 100% Vitamin B6 (as pyridoxine hydrochloride) 1.7 mg 100% Folate (as activated 5-formyltetrahydrofolate from calcium folinate) 400 mcg DFE 100% Vitamin B12 (as methylcobalamin) 30 mcg 1,250% Biotin 30 mcg 100% Pantothenic Acid (as D-calcium pantothenate) 5 mg 100% Choline (from Vitacholine® choline bitartrate) 50 mg 9% Calcium (from Aquamin®)(as mineralized red algaseaminerals) (lithothamnium corallioides/lithothamnium calcareum)(whole plant) 50 mg 4% Iodine (as Nascent Iodine) 150 mcg 100% Magnesium (from Aquamin® Seawater extract) 25 mg 6% Zinc (as zinc bisglycinate chelate) (TRAACS®) 11 mg 100% Selenium (as selenium glycinate chelate) 55 mcg 100% Manganese (as manganese bisglycinate chelate) (TRAACS®) 2.3 mg 100% Chromium (as chromium polynicotinate) 35 mcg 100% Molybdenum (as molybdenum ascorbate) 45 mcg 100% Lutein (as Lutemax® 2020 marigold flower extract) 5 mg 100% Organic Prebiotic Fiber Support Blend 1 g * Organic Inulin (FOS prebiotic fiber) (Blue agave plant) Super Phyto-Food Blend 980 mg * Aloe Vera Juice (aloe barbadensis) (inner leaf gel), Chlorella (Chlorella protothecoides), Green Coffee Extract, Broccoli Sprout Concentrate, Green Tea Extract, Onion Extract, Apple Extract, Acerola Extract, Camu Camu Concentrate, Quercetin, Tomato Concentrate, Broccoli Concentrate, Acai Concentrate, Turmeric Concentrate, Garlic Concentrate, Basil Concentrate, Oregano Concentrate, Cinnamon Concentrate, Elderberry Concentrate, Carrot Concentrate, Mangosteen Concentrate, Blackcurrant Extract, Blueberry Extract, Sweet Cherry Concentrate, Blackberry Concentrate, Chokeberry Concentrate, Raspberry Concentrate, Spinach Concentrate, Kale Concentrate, Bilberry Extract, Brussels Sprout Concentrate Omega Fatty Acid Blend 140 mg * Organic Flax Seed Oil, AglaRich™ Whole Food Chlorella (Chlorella protothecoides) Super Food Chlorella Amino Acid Blend 50 mg * (L-Lysine*, L-Phenylalanine*, L-Tryptophan*, L-Histidine*, L-Threonine*, L-Valine*, L-Methionine* L-Arginine, L-Cysteine, L-Aspartic acid, L-Serine, L-Glycine, L-Alanine, L-Proline, L-Tyrosine, L-Leucine, L-Glutamic acid) Prehistoric Deep Earth Fulvic and Sea Trace Mineral Complex 228 mg * Aquamin® seawater extract, Fulvic Acid (as fulvic mineral complex) Other Ingredients: Purified water, Vegetable glycerin, Natural Flavor, Quillaja bark extract, Citric Acid, Citrus Extract, Xanthan gum *These statements have not ben evaluated by the Food and Drug Administration. This is not intended to diagnose, treat, cure, or prevent any disease.

** Daily Value not established.

† Percent Daily Values are based on a 2,000 calorie diet
How to use

Use & Storage

Shake Well

Some settling is normal, so shake well! And remember — this is a natural product, so color and taste may slightly vary from bottle to bottle.

1/2 to 1 tablespoon

For best absorption: Children 1-4 year: 1/2 tablespoon; Children 4-12: 1 tablespoon.

Refrigerate

Keep your bottle cool by refrigerating after opening. Our bottles are designed to protect your liquid from light & moisture.