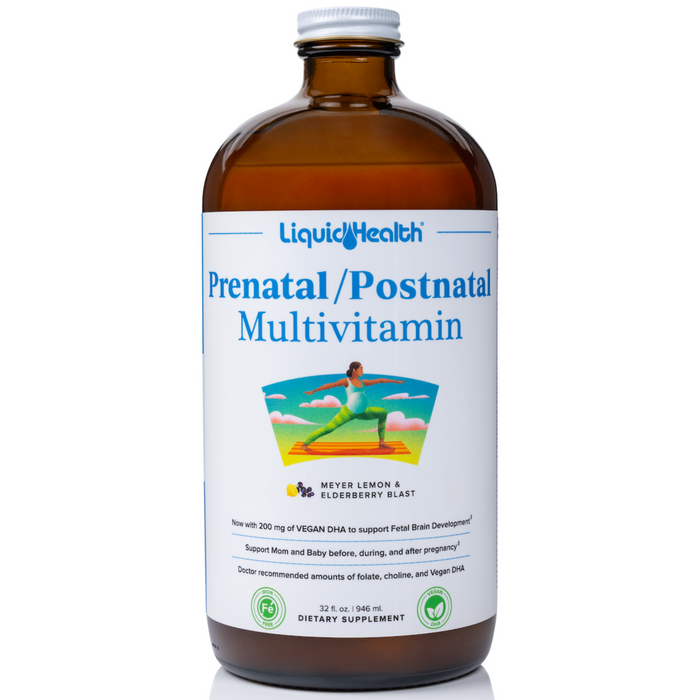 NEW! Prenatal/Postnatal Multivitamin w/DHA
32 oz.

Meyer Lemon & Elderberry Blast
Save

20

%
Save

5

%
Original price
$39.95
-
Original price
$119.85
Liquid Health Prenatal Multiple is a premium-quality supplement that provides the best prenatal vitamins, minerals, and natural ingredients for expecting mothers to support a healthy pregnancy. One of the best liquid prenatal vitamins on the market, this formula is specifically formulated to deliver comprehensive support for maternal and fetal health.
This supplement contains various essential nutrients, including Folic Acid, which is crucial for the healthy development of the fetus. Folic Acid is critical to forming the neural tube, which becomes the baby's brain and spinal cord. This supplement also contains other essential natural prenatal vitamins and minerals, such as Vitamin D, Vegan DHA, Calcium, and Zinc, all of which are vital for maternal and fetal health.
In addition to the best pregnancy vitamins and essential nutrients, this supplement includes a variety of natural ingredients known for their beneficial effects on maternal and fetal health. For instance, Ginger Root can help to reduce morning sickness and nausea, while Cranberry Extract can help to promote urinary tract health.
Omega-3 Fatty Acids are another key ingredient in this supplement. They are crucial for the healthy development of the baby's brain and eyes, while DHA is vital for fetal brain development. The supplement also includes Choline, which can help to reduce the risk of neural tube defects and is essential for fetal brain development.
Unlike other top prenatal vitamins, Liquid Health Prenatal Multiple is also free from artificial colors, flavors, sweeteners, gluten, and dairy. This makes it a safe and healthy option for expecting mothers with dietary restrictions or sensitivities.
Liquid Health Prenatal Multiple is an excellent choice if you're an expecting mother looking for high-quality organic prenatal vitamins to support your health and the healthy development of your baby. Its comprehensive blend of essential vitamins, minerals, and natural ingredients can help you and your baby get the nutrients you need during this critical time.
And with its liquid formula and natural ingredients, this supplement is one of the best liquid prenatal vitamins and a safe choice for any expecting mother. So why not try and give your body and baby the support they need for a healthy pregnancy?
What's Inside

Overview & Benefits

Liquid Health Prenatal Multi contains folate.

Folic acid found in many liquid prenatal vitamins is not natural. It must be converted to folate in the liver for the body to utilize this important nutrient. Folic acid is the synthetic, less bioavailable form of folate. Almost all multivitamins and prenatal supplements use the synthetic form of folic acid. However, our brand of liquid prenatal vitamins and supplement is different. Read the label carefully to see if you are getting true folate or synthetic folic acid. Liquid Health Prenatal Multi uses only 100% organic certified lemon-peel extract, which is a whole food source of folate. Nature knows best when it comes to nutrition. The U.S. Food and Drug Administration has recommended that all women of childbearing age consume at least 400 mcg of folic acid daily to reduce their risk of having a pregnancy affected by spina bifida or other neural tube defects. Liquid Health Prenatal Multi delivers twice this recommendation: 800 mcg!

#prenatal

#postnatal

#everyday

Ingredients & Analysis

Liquid Health Prenatal Complete Multiple is specifically designed to address all nutritional needs of women before, during, and after pregnancy by supporting Mom and Baby's well-being at the cellular level with an all-inclusive profile of full-spectrum natural elements in liquid form. New comprehensive formula updated with bioavailable methyl-folate and Vegan DHA. Great tasting and naturally sugar free.

Supplement Facts

Serving Size: 2 tablespoons (30 ml.)

Servings Per Container: 32

Amount Per Serving %Daily Value† Calories 12 * Total Carbohydrate 6.5 g 2% Total Sugars 0 g * Vitamin A (as 100% natural beta carotene) 1,300 mcg RAE 100% Vitamin C (as calcium ascorbate) 120 mg 100% Vitamin D (as cholecalciferol from lichen)(Vegan) 20 mcg 133% Vitamin E (as d-alpha tocopherol acetate) 20 mg 105% Thiamine Hydrochloride (Vitamin B-1) 2 mg 143% Riboflavin (Vitamin B-2) 2 mg 125% Niacin (as niacinamide) (Vitamin B-3) 20 mg 111% Vitamin B6 (as pyridoxine hydrochloride) 4 mg 200% Folate (as activated 5-formyltetrahydrofolate from calcium folinate) 800 mcg DFE (480 mcg folinic acid) 133% Vitamin B-12 (as methylcobalamin) 250 mcg 8,929% Biotin 35 mcg 100% Choline (from Vitacholine® choline bitartrate)18 mg 67% Iodine (as Nascent Iodine) 290 mcg 100% Magnesium (from Aquamin® Seawater extract) 40 mg 10% Zinc (as zinc picolinate 13 mg 100% Manganese (as manganese bisglycinate chelate) (TRAACS®) 2.3 mg 88% Molybdenum (as molybdenumascorbate) 50 mcg 100% Calcium (From Aquamin®)(as mineralized red algae sea minerals)(lithothamnium corallioides/lithothamnium calcareum)(whole plant) 50 mg 4% Super Fruit/Whole Food Immunity Blend 605 mg * Pure Organic Elderberry Juice Concentrate (Sambucus nigra), Aloe Vera Juice (Aloe barbadensis)(Inner leaf gel), Maqui Berry Superfruit™ Maqui Berry Juice (Aristotelia chilensis), Extractives of: Banana, Kiwi, Mango, Pineapple, Cranberry, Cherry, Raspberry, Red Pepper, Plum, Apricot, Ginger, Broccoli, Spinach, Kale, Cabbage, Orange, Grapefruit, Lemon, Lime, Decaffeinated Green Coffee Extract, Broccoli Sprout Concentrate, ecaffeinated Green Tea Extract, Onion Extract, Apple Extract, Acerola Extract, Camu Camu Concentrate, Quercetin, Tomato Concentrate, Broccoli Concentrate, Acai Concentrate, Turmeric Concentrate, Garlic Concentrate, Basil Concentrate, Oregano Concentrate, Cinnamon Concentrate, Elderberry Concentrate, Carrot Concentrate, Mangosteen Concentrate, Blackcurrant Extract, Blueberry Extract, Sweet Cherry Concentrate, Blackberry oncentrate, Chokeberry Concentrate, Raspberry Concentrate, Spinach Concentrate, Kale Concentrate, Bilberry Extract, Brussels Sprout Other Ingredients: Water (Reverse Osmosis), Erythritol, Vegetable Glycerin, Allulose, Natural Flavor, Xanthan Gum, Gum Arabic, Organic Stevia Leaf Extract (Rebaudioside A), Potassium Sorbate (To Preserve Freshness), Citrus Extract

** Daily Value not established.

† Percent Daily Values are based on a 2,000 calorie diet
How to use

Use & Storage

Shake Well

Some settling is normal, so shake well! And remember — this is a natural product, so color and taste may slightly vary from bottle to bottle.

2 tbsp daily

For best absorption, take 2 tbsp daily.

Refrigerate

Keep your bottle cool by refrigerating after opening. Our bottles are designed to protect your liquid from light & moisture.