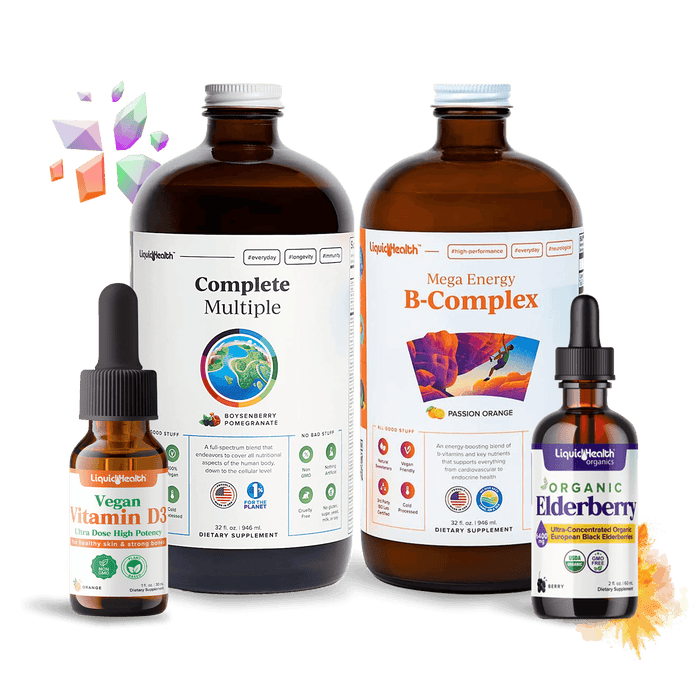 Ultimate Immunity + Energy Vitamin Bundle
Save

23

%
Save

23

%
Original price
$129.85
-
Original price
$129.85
Maximize your immunity and energy levels with our Ultimate Immunity & Energy Vitamin Bundle! This fantastic bundle contains Complete Multiple, Mega Energy B-Complex, Organic Elderberry Drops, and Vegan Vitamin D3 Drops - all working together to give you the ultimate nutritional support. Together, these four supplements provide a powerful combination of immune-boosting, energy-promoting, and overall health-supporting benefits. They are formulated to work together to help you feel your best, no matter what life throws your way.
Our Complete Multiple provides a comprehensive blend of essential vitamins and minerals that helps promote optimal immunity, energy production, and overall metabolic health. Designed to create the best multivitamin for adults, Complete Multiple comes in a liquid multivitamin formula to provide maximum absorption and effectiveness. Our Complete Multiple liquid multivitamin is also gluten-free, dairy-free, and non-GMO, making it the best liquid vitamin for anyone with dietary restrictions or preferences.
Upgrade your daily health routine with our Mega Energy B Complex. This unique blend of B vitamins helps to boost energy production and immunities, thanks to its combination of eight essential B vitamins such as B1, B2, B3, B5, B6, B7, B9, and B12. Together, these B vitamins boost energy production and help support overall metabolism - all essential nutrients to formulate the best supplements for energy.
Get the immune-boosting power of elderberries with our Organic Elderberry Drops. Unlike other elderberry supplements, our liquid elderberry drops are made with organic Sambucus elderberry to provide your body with antioxidant-rich nutrients that help support healthy energy production, a robust immune system, and overall metabolism. Elderberries are a great source of vitamins and minerals like Vitamin A, C, and E, plus zinc and iron.
Give your immunity a lift with our Vegan Vitamin D3 Drops. This unique blend of plant-based vitamin D helps to boost immunity and energy production, thanks to its combination of essential nutrients like vegan-friendly vitamin D3. Not only does it help support overall health and wellness, it can help to give you the extra energy and vitality you need to get through your day. 
This bundle is ideal for anyone looking to support their immune system, increase their energy levels, and improve their overall health and well-being. Whether you're a busy professional, a student, or parent, this bundle is an excellent way to help support your body's natural defenses and maintain optimal health.
All the supplements in our Ultimate Immunity & Energy Vitamin Bundle are free from artificial colors, flavors, and preservatives. They are also gluten-free, soy-free, and dairy-free, making them an excellent choice for people with dietary restrictions or sensitivities.
The Ultimate Immunity & Energy Vitamin Bundle is a must-have for anyone looking to support their immune system and maintain optimal health and well-being. With a powerful combination of immune-boosting, and energy-boosting supplements, this bundle is an excellent investment in your health and well-being.
COMPLETE MULTIPLE - 32oz - Complete Multivitamin, Natural Immune Support, Non-GMO, Vegan
MULTIVITAMINS for ADULT MEN and WOMEN: Liquid Health Daily multivitamin provides all essential vitamins in one liquid bottle! Vitamin A, B1, B2, B3, B6, B12, C, D, E, Magnesium, Calcium, Zinc & Folate. We also added Omega Fatty Acids, Prebiotic Digestive Support Blend, Cardiovascular Liver Detox Blend, Youth & Energy Complex, and trace minerals.
Mega Energy B-Complex 32oz - Perfect All-Natural Caffeine Alternative
A natural energy boost without stimulants! Perfect for sustained daily energy without resorting to harmful stimulants like caffeine. Supports cardiovascular, endocrine, nervous, digestive, immune, muscular, nervous, and renal systems.
Organic Elderberry Drops, 6400 mg - Immune Support Liquid Vitamin Supplement (2oz)
Eldercraft Elderberry Liquid Drops are a potent and concentrated source of organic elderberries. This product contains 6,400 mg of ultra-concentrated European Black Elderberry per serving, equivalent to eating 60 elderberries! With 30 servings per bottle, this syrup is the perfect way to support your immune system and promote overall health. The dark berry color of this Sambucus Elderberry syrup is a result of its clinically studied and proven effectiveness in flu patients. Get your daily dose of immune health with Eldercraft Elderberry Liquid Drops!
New Vegan Vitamin D3 Drops - 1 oz - Skin, Bone, & Immunity Support
Looking for a vegan-friendly and effective way to get your daily vitamin D3? Look no further! Our Vegan Vitamin D3 Liquid Drops are the perfect solution for you! Our ultra-high potency liquid drops are formulated to provide optimal bone strength, immune support, and skin health. With 20mcg of vegan Vitamin D3 per serving, our drops are Non-GMO and designed to maximize absorption to ensure you get the benefits you need.