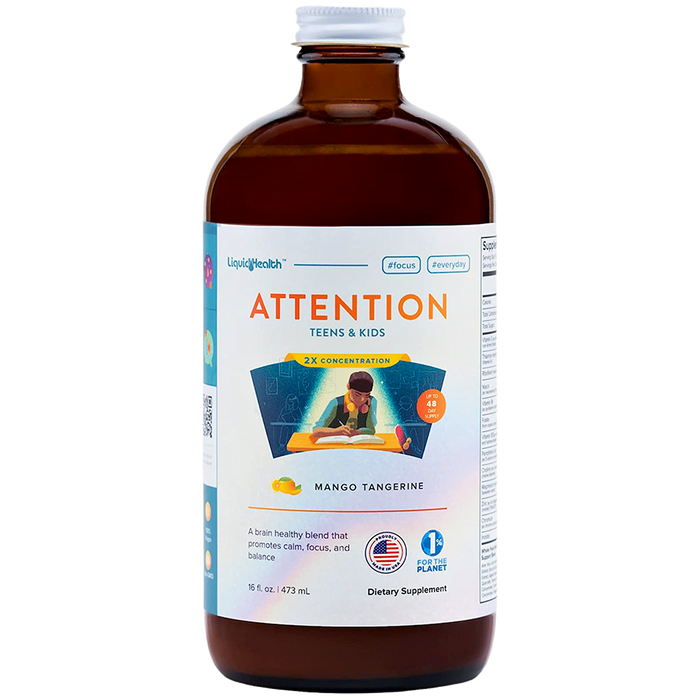 Attention
16 oz.

Mango Tangerine
Save

32

%
Save

15

%
Original price
$38.95
-
Original price
$116.85
If you're looking for a natural and effective way to support your child's cognitive function and focus, look no further than Liquid Health Attention & Focus supplements for kids. Formulated after studying the best supplements for focus and concentration, our comprehensive formula helps children of all ages enhance their cognitive performance, mental clarity, and concentration. 
Made with a unique blend of essential vitamins, minerals, and natural compounds, our Attention & Focus is ideal for parents who want to give their children the best possible start in life. Unlike other natural supplements for ADHD, our Attention & Focus supplement supports healthy levels of acetylcholine to improve memory, concentration, and overall mental performance.
One of the key ingredients in Attention & Focus is DMAE (dimethylaminoethanol), a natural compound missing in other concentration supplements in the market. DMAE works by increasing levels of the neurotransmitter acetylcholine in the brain to enhance mental alertness for proper cognitive function.
Another essential ingredient in this brain focus supplement is Vitamin B6, which is crucial for healthy brain function and the production of neurotransmitters. Vitamin B6 can help support children's cognitive development and enhance focus and mental clarity. Our cognitive supplement contains Zinc, Magnesium, and Phosphatidylserine, all of which are essential for healthy brain function and can help to support cognitive function and focus in children.
The Attention & Focus supplement for kids comes in a delicious berry flavor that kids are sure to love, and the liquid formula makes it easy for children to take and digest. Compared to other supplements for concentrations, Attention & Focus is free from artificial colors, flavors, sweeteners, and gluten, and dairy, making it a safe and healthy option for children with dietary restrictions or sensitivities.
Our Attention & Focus supplement for kids is also made with high-quality, natural ingredients free from harmful chemicals and additives. This ensures that your child gets a safe and effective supplement that helps focus and supports their overall cognitive function.
While most focus supplements for ADHD claim to improve cognition function, our liquid supplement improves cognitive function and focus and can also help reduce stress and anxiety in children. This Attention & Focus supplement for kids contains GABA (gamma-aminobutyric acid), a neurotransmitter critical in regulating brain activity and promoting relaxation. By supporting healthy levels of GABA in the brain, Attention & Focus can help to reduce stress and anxiety in children and promote overall mental wellness.
Attention & Focus supplement for kids is a safe and effective way to support your child's cognitive function, mental clarity, and focus. With their unique blend of essential vitamins, minerals, and natural compounds, these supplements can help improve memory, concentration, and overall mental performance, promoting relaxation and reducing stress and anxiety.
What's Inside

Overview & Benefits

Liquid Health's Attention blend combines key vitamins, amino acids, minerals, and supplements to support brain health. It's specially designed to support dopamine and serotonin to keep the brain's cognitive and behavior functions at high performance. It can help kids and teens struggling with concentration issues, staying on task, behavior issues, fidgeting, learning difficulties, impulsivity, and mood swings to feel calm and focused.

Our liquid supplement is manufactured right here in the USA using the highest quality ingredients. Each ingredient that goes into our attention blend is strictly reviewed by our in-house quality control department to ensure that your kids get the best brain health support on earth.

#concentration

#calm

#energy

Ingredients & Analysis

Our dense attention nutrient blend starts with neurotransmitter regulating amino acids and three key supplements for memory and mood: phosphatidyl serine, Alpha GPC, and DMAE. Chromium helps regulate blood sugar levels and promotes even energy levels. B-complex and sea based magnesium and calcium promote calm and support proper brain function. Vitamin D3 is crucial for proper brain development in kids and teens. Important phytochemicals and antioxidants from 27 fruits and vegetables that may be lacking in diet support brain health.

Supplement Facts

Serving Size: 1 tablespoon (0.5 fl. oz.)

Servings Per Container: 32

Amount Per Serving %Daily Value† Calories 2 Total Carbohydrate 0.5 Total Sugars 0 Vitamin D (as cholecalciferol from lichen) (Vegan) 10 mcg 50% Thiamine Hydrochloride (Vitamin B-1) 1.5 mg 125% Riboflavin (Vitamin B-2) 1.9 mg 146% Niacin (as niacin amide)(Vitamin B-3) 15 mg 94% Vitamin B6 (as pyridoxine hydrochloride) 16 mg 941% Folate (from organic spinach) 400 mcg DFE 100% Vitamin B12 (as methylcobalamin) 500 mcg 20,833% Pantothenic Acid (as D-calcium pantothenate) 2 mg 40% Choline (from Vitacholine® choline bitartrate) 100 mcg 18% Magnesium (from Aquamin® Seawater extract) 50 mg 12% Zinc (as zinc bisglycinate chelate) (TRAACS®) 8.5 mg 77% Chromium (as chromium polynicotinate) 75 mcg 214% Inositol 25 mg * Whole Food Nutritional Support Blend 500 mg Aloe Vera Juice (aloe barbadensis)(inner leaf gel), Green Coffee Extract, Broccoli Sprout Concentrate, Green Tea Extract, Onion Extract, Apple Extract, Acerola Extract, Camu Camu Concentrate, Quercetin, Tomato Concentrate, Broccoli Concentrate, Acai Concentrate, Turmeric Concentrate, Garlic Concentrate, Basil Concentrate, Oregano Concentration, Cinnamon Concentrate, Elderberry Concentrate, Carrot Concentrate, Mangosteen Concentrate, Blackcurrant Extract, Blueberry Extract, Sweet Cherry Concentrate, Blackberry Concentrate, Chokeberry Concentrate, Raspberry Concentrate, Spinach Concentrate, Kale Concentrate, Bilberry Extract, Brussels Sprout Concentrate Brain Calm and Focus Amino Blend 1.9 g GABA (as gamma-aminobutyric acid), Taurine, L-Tyrosine, L-Theanine Memory, Mood & Mental Acuity Blend 205 mg DMAE (dimethylaminoethanol)(from dimethylaminoethanal bitartrate), Phosphatidyl Serine, Alpha GPC (L-alpha-glycerylphosphorylcholine), Whole Grape Extract (Vitis vinifera) (seed, skin & pulp) Other Ingredients Reverse Osmosis Water, Vegetable Glycerin, Citric Acid, Malic Acid, Organic Stevia leaf extract (Rebaudioside A)Xanthan Gum, Natural Flavor, Citrus extract, Potassium Sorbet (to preserve freshness) *These statements have not ben evaluated by the Food and Drug Administration. This is not intended to diagnose, treat, cure, or prevent any disease.

** Daily Value not established.

† Percent Daily Values are based on a 2,000 calorie diet
How to use

Use & Storage

Shake Well

Some settling is normal, so shake well! And remember — this is a natural product, so color and taste may slightly vary from bottle to bottle.

Daily Dosage

Less than 40 lbs: 2 teaspoons; 40 to 100 lbs: 1 tablespoon; 100 to 200 lbs: 1 1/2 tablespoons; Adults/200+ lbs: 2 tablespoons

Refrigerate

Keep your bottle cool by refrigerating after opening. Our bottles are designed to protect your liquid from light & moisture.