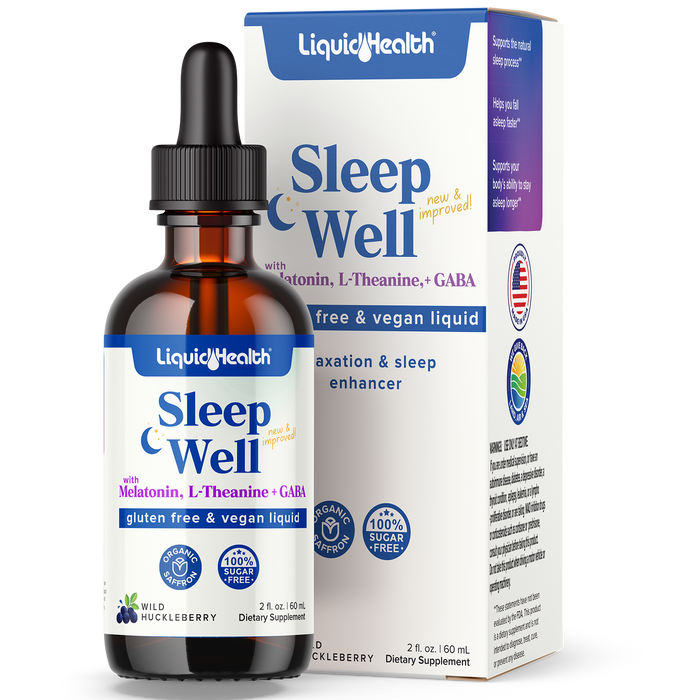 Sleep Well (Brand New Formula!)
59 ml

Wild Huckleberry
Save

33

%
Save

10

%
Original price
$19.95
-
Original price
$59.85
Sleep Well is a natural sleep supplement designed to help you achieve a restful and rejuvenating night's sleep. Formulated to create the best natural sleep aid, this blend of natural ingredients that work together to promote relaxation, reduce stress, and support healthy sleep patterns. This supplement is the perfect solution for anyone struggling with sleep issues.
One of the primary ingredients in Sleep Well is melatonin, a naturally occurring hormone that helps regulate the body's sleep-wake cycle. Our melatonin supplement helps to reset your body's internal clock and promote healthy sleep patterns, making it easier to fall asleep and stay asleep throughout the night.
Another key ingredient in our natural sleep supplement is valerian root, a natural herb used for centuries as a natural sleep aid. Valerian root promotes relaxation and reduces anxiety, making it easier to fall asleep and stay asleep.
Unlike other herbal sleep supplements, Sleep Well includes chamomile, passionflower, and lemon balm, which have been shown to promote relaxation and reduce stress. These natural herbs work together to help calm the mind and body, making it easier to unwind and drift off to sleep, making it the best herbal sleep aid on the market.
In addition to its sleep-promoting benefits, Liquid Health Sleep Well is formulated with the best vitamins for sleep and minerals that support overall well-being. These include vitamin B6, magnesium, and zinc, essential for maintaining healthy sleep patterns and promoting relaxation.
Sleep Well is a non-habit-forming, natural sleep supplement, meaning it is safe to use regularly without the risk of addiction or dependency. It is also free from artificial flavors, colors, sweeteners, and common allergens like gluten, soy, and dairy, making it a safe and healthy choice for individuals with dietary restrictions or sensitivities.
While other sleep supplements may leave you groggy or sluggish the next day, Liquid Sleep Well is designed to help you feel refreshed and energized. By promoting a restful and rejuvenating night's sleep, this supplement can help you start each day feeling your best and ready to tackle whatever challenges come your way.
If you're struggling with sleep issues and looking for a natural sleep supplement, Sleep Well may be just what you need. With its natural ingredients and essential vitamins and minerals blend, this supplement can help you achieve a restful and rejuvenating night's sleep, promote healthy sleep patterns, and wake up refreshed and energized.
And with its pure, high-quality ingredients and its non-habit-forming formula, Sleep Well is the best melatonin supplement for anyone looking to support their overall health and enhance their well-being. So why not try Liquid Health's Sleep Well today and experience the benefits for yourself?
What's Inside

Overview & Benefits

Rapid Onset of Sleep: Melatonin is used by millions of people to fall asleep faster and get a more restful night. Numerous studies show that melatonin can aid the body in its natural ability to fall asleep.

Restores Circadian Rhythms for Late Night Shift Workers and those with Jet Lag: Sleep Well helps to relieve effects caused by disruption of your body's natural sleep cycle or circadian rhythm. Sleep Well aids realignment of the body's rhythm to its natural state so that you can get back to falling asleep and waking up when you should. This is one of the main benefits and purposes of taking a liquid sleep aid supplement.

#immunity

#longevity

#energy

Ingredients & Analysis

Helps Light Sleepers Return to Sleep Fast: Melatonin is often used in the ICUs (intensive care units) of hospitals to help patients combat disruptions caused by medical equipment, alarms, and nurse assessments and quickly return to a restful sleep. Liquid Health™ Sleep Well can have similar benefits for those who have such sleeping disruptions at home.

Effective, Yet Available Without Prescription: Studies show Melatonin, L-Theanine, and Inositol to be as effective or more effective than many prescription drugs at promoting a relaxed state and inducing sleep.

Supplement Facts

Serving Size: 2 ml

Servings Per Container: ~59

Amount Per Serving %Daily Value† Calories 2 ** Total Carbohydrates 0.5 g ** Melatonin 5 mg Melatonin is a hormone that is naturally produced by the body that is involved in the sleep cycle. Mind & Body Relaxation Blend 60 mg L-Theanine, Tart Cherry Extract (from CherryPure® whole Montmorency cherries), Passion Flower 4:1 extract, Valerian Root Extract (Valeriana officiinalis) OTHER INGREDIENTS Purified Water, Vegetable Glycerin, Sunflower Oil High Oleic, Fruit and Vegetable Juice (Color), Citric Acid, Phospholipids (Non-GMO sunflower), Undenatured Ethanol, Natural Flavor, Gum arabic, Xanthan Gum, Citrus Extract, Monk Fruit Extract

** Daily Value not established.

† Percent Daily Values are based on a 2,000 calorie diet
How to use

Use & Storage

Shake Well

Some settling is normal, so shake well! And remember — this is a natural product, so color and taste may slightly vary from bottle to bottle.

1-2 ml at bedtime

For best absorption, take 1-2 ml at bedtime.

Refrigerate

Keep your bottle cool by refrigerating after opening. Our bottles are designed to protect your liquid from light & moisture.