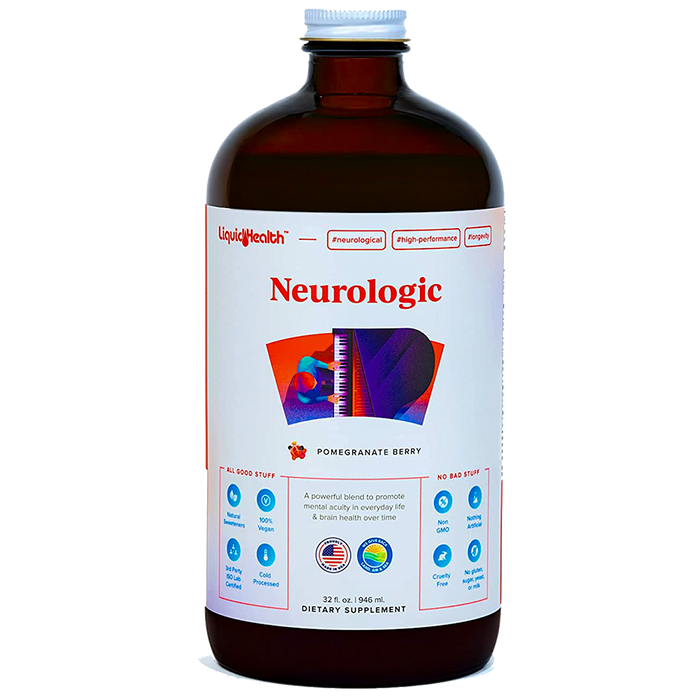 NeuroLogic
32 oz.

Pomegranate Berry
Save

27

%
Save

13

%
Original price
$39.95
-
Original price
$119.85
Liquid Health Neurologic Vitamins is a high-quality brain supplement that supports cognitive function and memory. This supplement is formulated with a blend of vitamins, minerals, and other natural ingredients essential for optimal brain function, making it one of the best memory supplements on the market.
Liquid Health Neurologic can help improve energy levels, reduce fatigue, and enhance mental clarity. One of the key ingredients in this supplement is Vitamin B12, which plays a crucial role in the proper functioning of the brain and nervous system. Vitamin B12 is also essential for producing red blood cells, which carry oxygen to the brain and other body parts.

Formulated to be one of the best brain health supplements, Liquid Health Neurologic also contains Vitamin B6, one of the most important vitamins for memory. Vitamin B6 plays a pivotal role in producing neurotransmitters, allowing nerve cells in the brain to communicate, and improving memory, focus, and overall cognitive function - all essential target areas of high-performing focus supplements.

In addition to these vitamins, this brain function supplement contains various other natural ingredients that support brain health. These include Ginkgo Biloba, which has been used for centuries to improve memory and cognitive function, and Phosphatidylserine, a type of fat essential for properly functioning cell membranes in the brain. Other key ingredients in this supplement include Acetyl-L-Carnitine, an amino acid that can help improve energy levels and mental clarity, and Alpha Lipoic Acid, a powerful antioxidant that can help to protect the brain from oxidative stress.

One of the unique features of Liquid Health Neurologic Vitamins for Brain Health is its liquid formula. Unlike other memory supplements, this supplement is designed to be absorbed more quickly and efficiently by the body. This helps ensure that the essential nutrients in the supplement are delivered to the brain and other parts of the body more quickly and effectively.

Not only is Liquid Health Neurologic one of the best supplements for brain health, but it is also free from artificial colors, flavors, and sweeteners, as well as gluten and dairy. This makes it a safe and healthy option for individuals with dietary restrictions or sensitivities.
Liquid Health Neurologic is the perfect choice for high-quality memory supplements designed to support brain health and cognitive function. With its blend of essential vitamins, minerals, and natural ingredients, this supplement can help to improve memory, focus, and overall brain function, while also providing a boost of energy and mental clarity. And with its liquid formula and natural ingredients, this supplement is a safe and healthy choice for anyone looking to support their brain health and cognitive function.

What's Inside

Overview & Benefits

Liquid Health™ NEUROLOGIC provides the nutritional foundation for superior brain function. Whether you are studying for finals, or just tired of forgetting where you put the keys, NEUROLOGIC can help.

• Great for students, seniors, professionals
• Carefully formulated with clinically studied nutrients and additional effective supplements
• Contains NO artificial coloring or flavoring
• Highly bioavailable liquid offers superior absorption
• Antioxidant Support
• Made with care in the USA
• Great tasting
• Easy to use

#immunity

#longevity

#energy

Ingredients & Analysis

Liquid Health™ NeuroLogic is packed with brain health and memory-supporting nutrients, including Ginkgo Biloba, Huperzine-A, Alpha Lipoic Acid, and the carefully developed, high-quality memory supplements Alpha- glyceryl phosphoryl choline & SerinAid® PS (Phosphatidylserine, Phosphatidylcholine, Phosphatidylethanolamine, Phosphatidylinositol).

Supplement Facts

Serving Size:

2 Tbsp (2 Tablespoons = 1 fl. oz.)

Servings Per Container:

32

Amount Per Serving %Daily Value† Calories 8 * Total Carbohydrates 2 g 1% Total Sugars 0 g * Vitamin E (as d-alpha tocopherol acetate) 7.5 mg 50% Folate (as activated 5-formyltetrahydrofolate from calcium folinate) 800 mcg DFE (480 mcg folinic acid) 200% Vitamin B-12 (as methylcobalamin) 400 mcg 16,667% Choline (from Vitacholine® choline bitartrate) 100 mg 18% Memory and Focus Blend 815 mg * Aloe Vera Juice (aloe barbadensis) (inner leaf gel), Acetyl-L-Carnitine, Alpha GPC (L-alpha-glycerylphosphorylcholine), Phosphatidyl Serine (from Non-GMO soy), L-Theanine, Alpha Lipoic Acid Alertness & Mental Clarity Blend 655 mg * L-Tyrosine, DMAE (dimethylaminoethanol) (from dimethylaminoethanol bitartrate), Rhodiola Rosea extract (root), Ginkgo Biloba Leaf Extract, Huperzine A (Club serrata) Other Ingredients: Purified water, Erythritol , Natural Flavor, Citric Acid , Malic Acid, Potassium Sorbate (to preserve freshness), Potassium Benzoate (to preserve freshness), Organic Stevia Leaf Extract, Natural color from fruit/vegetable juice, Xanthan Gum
How to use

Use & Storage

Shake Well

Some settling is normal, so shake well! And remember — this is a natural product, so color and taste may slightly vary from bottle to bottle.

2 tbsp daily

For best absorption, take 2 tbsp daily.

Refrigerate

Keep your bottle cool by refrigerating after opening. Our bottles are designed to protect your liquid from light & moisture.