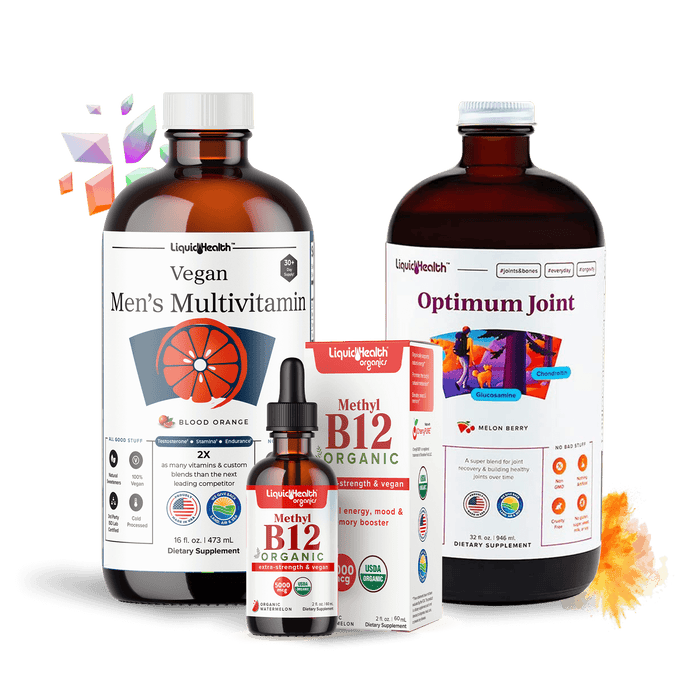 Men's Elite Athlete Vitamin Bundle
Save

20

%
Save

20

%
Original price
$105.85
-
Original price
$105.85
Delivery time
This product is expected to ship by EARLY-MID DECEMBER 2023. Pre-Order Now! (First Come, First Serve)
Vegan Men's Multivitamin
Are you looking for a multivitamin that's vegan and non-GMO, jam-packed with all the essential vitamins and minerals you need? Look no further than Liquid Health's Vegan Men's Multivitamin! This glorious blood orange-flavored supplement has twice as many vitamins and minerals as the next leading competitor, making it the ultimate choice for men who want to support their overall health and wellness.
But that's not all – this fantastic multivitamin is also specifically formulated to support testosterone, stamina, and endurance. With the perfect blend of elite muscle mass and endurance ingredients and an advanced testosterone and stamina herbal blend, you'll be able to power through your workouts and feel your best!
And when it comes to sexual health, Liquid Health's Vegan Men's Multivitamin has you covered there too. With ingredients designed to increase nitric oxide levels and support healthy blood flow, you can perform at your best in and out of the gym.
Optimum Joint
THE HIGHEST QUALITY JOINT SUPPORT INGREDIENTS AVAILABLE - This unique Optimum Joint for knee support and joint relief contains 62% more Glucosamine, 50% more Chondroitin, plus MSM, Hyaluronic Acid, and pure aloe vera to lubricate joints effectively. These premium joint health liquid multivitamins are a must-have joint supplement to help you move free and get the complete knee support you deserve to achieve optimum joint health.
Organic Vitamin B12, 5000 MCG
ORGANIC ENERGY & METABOLISM SUPPORT! The most significant innovation in vitamins in over a decade, Methylcobalamin: Vitamin B-12 (cobalamin) is a water-soluble B vitamin that is essential for energy, metabolism, formation of healthy blood cells, and DNA synthesis.